Accommodation Rental Management & Services by PIONOW
Pionow company specialises in short-term rental management of rooms, apartments, hotels and guesthouses in Krynica Morska.
We have been active in the market since 2009 and, thanks to years of experience and challenging ourselves, we have become a professional leader in the Vistula Spit region.
Our marketing activities, advertising and promotion as well as multi-channel sales ensure that our Landlords gain profits from renting out their rooms and apartments, without spending their own time on commuting, preparation, cleaning the rooms or receiving the guests, and without bearing costs of individual advertising.

You give us the keys to your room or apartment, and we provide guest service, do the cleaning, supervise the technical condition of your premises, make financial settlements and much more.

Ours is a very convenient solution – you can make profit on your investments from a distance, without leaving your own home. In this option, we act on your behalf and provide rental services, issue the keys to your guests, clean the rooms, assist your guests during their stay (emergencies, breakdowns 24h) and perform minor repairs on your premises.
You can view your updated reservation calendar that is available only for you so you can follow your actual rentals. All you need to do is review the monthly statement of your earned income.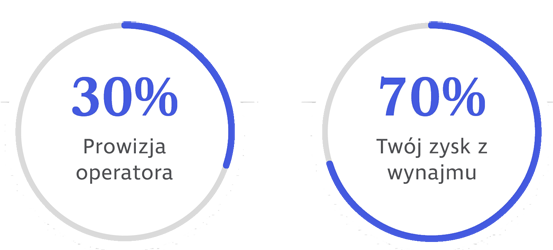 Prowizja operatora – Service Provider's fee
Twój zysk z wynajmu – Your profit from rentals
How we operate:
we arrange a meeting to assess the options and calculate expected income and service commissions
we sign a contract and you hand over your apartment keys
we perform an inspection of the premises and prepare the property for rent,
standardization (equipment, TV, cosmetics, suitable bedding, tableware, beds, lighting, etc.)
we get your premises ready for rent
a photo session,
we add you room/apartment to our rental base, and external services
we manage the rental on your behalf 24h